Are MSOs Set to Corner New Jersey's Legal Adult-Use Cannabis Market?

The New Jersey State Senate president stood outside of a dispensary one morning in April and made an atypical vow: I will probably buy some legal cannabis soon.
"Probably, at some point, we'll see. Not today, I'm not gonna wait in line," New Jersey State Senate President Nick Scutari told reporters outside of an Elizabeth dispensary on April 21, the day legal adult-use cannabis sales began in the Garden State.
Scutari's statement came on a day Governor Phil Murphy tweeted was "the start of an entirely new industry for our state, and a historic moment in our work to advance social and economic justice."
In a video he tweeted from outside of the Zen Leaf dispensary in Elizabeth, Murphy said, "this is an incredibly important day for New Jersey," adding that the state reached this new era of legalization "because of social justice and the need to undo the damage from the overwhelming War on Drugs and all the lives that were ruined as a result of that. This is one step, it's not the final step, but it's one huge step in the right direction."
He also vowed that the state's adult-use recreational cannabis market "will serve as a model for the entire nation in ensuring racial, social, and economic equity and justice."
In November 2020, New Jersey voters approved a constitutional amendment to legalize marijuana in the state. In February 2021, Governor Murphy signed into law two cannabis reform bills. These marijuana laws include A21 – "The New Jersey Cannabis Regulatory, Enforcement Assistance, and Marketplace Modernization Act," which legalized cannabis use and possession for adults over 21 and established a regulated cannabis market. Murphy also signed S3454, which clarifies the penalties for cannabis use and obsession for people under 21.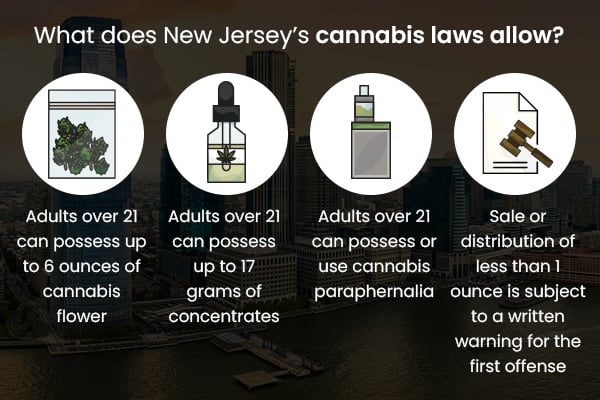 The state had already missed several deadlines in the program's rollout, though the timeframe is consistent with other states that have legalized adult-use cannabis.
According to a post on Thursday from New Jersey's Cannabis Regulatory Commission, there were long lines reported at some of the state's 12 adult-use cannabis dispensaries. Still, overall it was a "robust, trouble-free first day of adult-use sales in New Jersey."
The state's legal cannabis market is projected to top $2 billion in sales by 2025 - and a windfall in tax revenue. But as New Jersey residents celebrate the dawn of the era of legal recreational cannabis, which companies are [for now] positioned to thrive in the state's adult-use market?
Multi-state operators control New Jersey recreational cannabis - for now
In April, the New Jersey Cannabis Regulatory Commission approved the state's first 13 retail recreational cannabis licenses. The state-approved seven multi-state operators (MSOs) who already ran the state's 23 medical dispensaries and were thus well-suited to hit the ground running and handle supply issues.
According to the state of New Jersey, these operators and dispensaries include:
Acreage CCF New Jersey (Operators of "The Botanist" dispensaries)
Curaleaf Holdings, Inc (Operators of one Curaleaf recreational dispensary)
Columbia Care (Operators of "the Cannabist" dispensaries)
Verano Holdings (Operators of "Zen Leaf" dispensaries)
Green Thumb Industries New Jersey (Operators of "Rise" dispensaries)
Ascend New Jersey (Operators of "Ascend" dispensaries)
TerrAscend (Operators of "Apothecarium Dispensary")
These constitute some of the more well-known multi-state operators in cannabis, including Curaleaf Holdings, Inc., which operates in 23 states, and Verano Holdings, which has operations in 15 states.
"It always comes down to do you have the money"
According to Jennifer Cabrera, counsel in Vicente Sederberg's New Jersey and New York offices, the current dominance of MSOs in the Garden State's cannabis market does not necessarily bode poorly for the future.
"I don't think it's a bad omen; it's reflective of the medical [marijuana] market [in New Jersey], which is dominated by MSOs."
Cabrera said that she "absolutely" thinks that small, local New Jersey cannabis companies have a chance to thrive as the state's cannabis industry develops and that the state is showing a real commitment to diversity and social equity.
"It always comes down to do you have the money," Cabrera said, adding, "but if you do manage to get the financial backing if you come in with capital, you absolutely have a chance to get a part of this market."
Cabrera added that, like in neighboring New York, the high price and scarcity of real estate is one of the high costs facing would-be cannabis operators in the state.
According to Cabrera, there are barely over a dozen adult-use dispensaries in a state with almost 9 million residents, which means that opportunities abound for cannabis companies.
She added that the adult-use cannabis retail sales rollout in New Jersey is "going really well, frankly," and that it began while neighboring New York is still expected to be months away from launching retail cannabis sales.
"New Jersey was very much looking at it as a race [with New York], and they did it," she said.
"This isn't what we fought for, but it's what we have so far"
According to Dan Ulloa, Editor of Heady NJ, an independent news site covering cannabis, CBD, and hemp in New Jersey, the initial growing pains aren't enough to spoil the celebration.
"When you start from a limited [medical] program that's not that good, it's hard to build on. There are a lot of people with ties to the legacy [cannabis] market who are complaining about price and quality and a lack of variety. So it's really limited, but it is a market, and it is our market, so we're happy."
Ulloa added that the situation is "gonna change, but quickly is relative."
When asked to name the biggest issue facing the New Jersey legal cannabis market, he said, "we really are trying to get a market of small business people, especially people who were affected by the War on Drugs, and have the market reflect our diverse state and the market does not reflect that. All the proprietors are from out of state with negligible ties to the state, so if we really want to see the market that we hope for, that's at least six months to a year."
He added, "this isn't what we fought for, but it's what we have so far."
Ulloa said that in the meantime, "many of the things we fought for are coming." He said these include micro-licenses and provisional licenses and the prioritization of licensing for social equity applicants.
He also said he's excited for the state's cannabis lounges to open, and he looks forward to seeing "mom and pop" dispensaries and "just seeing more towns and more people embrace cannabis and the innovation that comes out it's exciting."