Brothers in Cannabis: The Story of Ball Family Farms

Things often only make sense to younger siblings once they get a little older. For Charles Ball, it was the realization that his older brother Chris didn't have nice stuff because he was a celebrity.
"I just thought he was a famous guy, but now I look back and say, oh, got you, you were selling weed," Charles told Rootwurks in an interview in early June.
Fast forward a couple of decades and change. California is the largest legal cannabis market in the world, and Chris Ball is still selling marijuana - with his little brother Charles by his side in the family business.
Charles, 34, is the Chief Financial Officer for Ball Family Farms. This Los Angeles-based cannabis company cultivates a wide range of premium flower with strain names like Daniel LaRusso, Sho'Nuff, and Bruce Leroy, after the childhood cinematic heroes of the Ball Brothers. The company received its license in 2018 under the city of Los Angeles social-equity program. Its growing facility was one of the city's first minority-owned social-equity commercial cannabis facilities.
"There aren't a lot of people who look like myself and not enough minorities [in legal cannabis]," the Rialto, California native told Rootwurks.
Charles traces the Ball Family Farms origin story to when he was around 5 when he and his big brother "really started to develop our relationship." Chris was ten years older, an athlete, and a cannabis dealer, but while his little brother wasn't privy to how Chris made his money, the two of them "were kind of a tag team" even if they were "yin and yang" according to Charles.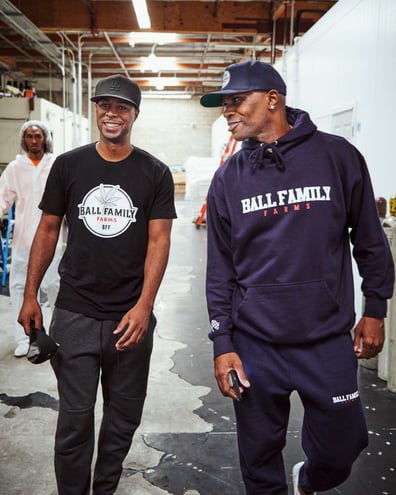 Chris told the LA Times that the real cannabis "eureka moment" for him began years later when he was playing for the British Columbia Lions of the Canadian Football League in the early 2000s, where he saw cultivators growing cannabis for the first time.
Ball began a lucrative off-season hustle, bringing premium British Columbia cannabis to the U.S., where he could sell it for a healthy mark-up. This was until an infamous 2010 trip to Arizona to sell cannabis with Charles ended with them ditching their cell phones after they got word they were trailed by law enforcement officers and were very much on their radar.
As Chris told the LA Times, a month later, a Drug Enforcement Administration officer contacted him ("I get a call on my phone that's all zero") and asked him to come in for a talk. Chris arranged the meeting at his attorney's office in Los Angeles, but he was arrested in the lobby before he even made it to the elevator.
According to the LA Times, he was charged with conspiracy to distribute 1,000 kilograms of marijuana. He spent a month in jail before taking a plea bargain that included 30 months in prison. Four years later, a judge sentenced him to time served.
Charles had steered clear of legal trouble and decided to strike out on his own path. He was a talented baseball player who attended Cal Poly Pomona on a full scholarship. He earned a degree in psychology with an emphasis on Industrial and Organizational Psychology before entering the corporate world.
"But then they started talking about legalizing [recreational marijuana] in 2015, and Chris is like, come on man, they're going to legalize it."
Initially, Charles didn't dive all the way in, but it didn't take long to fall in love with what would become his new path.
"I just wanted to come in and water some plants and see if this is right for me. And that's when the plants started speaking to me."
They soon found out about the social equity program in Los Angeles but realized that the authorities weren't going to make it easy.
"First off, you're supposed to be disenfranchised and have no money, and then they make your license $40,000."
Charles said they had "some shoebox money" that got them through the lean times but that on a broader scale, much more support is needed to see more people who look like the Ball family in cannabis.
"We consider everyone family"
Charles said he considers Ball Family Farms one big family, and in addition to him and Chris, the team includes other relatives, including his cousin Michael, their facility manager.
But the Ball Family is a large tent. Also, it includes Kelton Kessee, an actor and musician who, in his younger days, was in the boy band Immature (later IMx) and had roles in films including You Got Served, All About the Benjamins, and Freddy vs. Jason.
"Kelton is our life and spirit, and so Kelton may not be blood-related, but that is our brother," Charles said.
But in an industry dominated by corporate multi-state operators, is the smaller family business model a ticket to success?
"It's not the easiest because when you're dealing with family, sometimes that family environment kicks in when it's supposed to be business," Charles said, but added, "we come together as a family and put our money together as a family."
But what about their cannabis?
Ball Family Farms has its own proprietary genetics and uses only in-house cultivators and what the company describes as "an organic grow method which provides them a unique position in the market."
But what's probably most notable for fans of the brand are the strain names. The names and artwork on the jars and baggies seem guaranteed to put a smile on the face of anyone of a certain age or who grew up watching movies with their older brother in the early 90s.
The first cannabis strain was "Daniel LaRusso," named after the title character of The Karate Kid. It was followed by strains like "Nino Brown" (the villain portrayed by Wesley Snipes in New Jack City), "Clubber Lang" (the antagonist played by Mr. T in Rocky III), and "Bruce LeRoy" and "Sho'Nuff," two of the main characters in the 1985 martial arts film The Last Dragon.
"I wasn't supposed to be watching these things, but I did," Charles said, describing days spent watching films like Breaking and New Jack City with his big brother in their family home in California's Inland Empire when he was a young boy.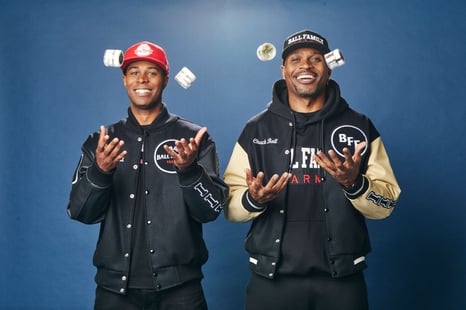 Chris and Charles were especially drawn to characters from The Last Dragon, notable for being a martial arts movie with a mainly minority group cast in a film industry that is typically full of people who don't look like them (see: the cannabis industry).
"To see black people doing karate, you didn't see that."
As Charles put it, "these were our childhood memories, and I told Chris that's dope, but we have to be careful they might sue us. But Chris was like, nah, and with his charisma, he could talk to all the creators of these images and convince them we are not trying to profit off you; we're paying homage."
They did get one very notable cease and desist letter from the estate of Prince for the "Purple Rain" strain they planned to create with former NBA player Al Harrington's cannabis company Viola.
Can legal cannabis be victorious in California?
While the Ball Family Farms story is one of the entrepreneurs on both sides of the law in cannabis, that doesn't mean Charles has high hopes that the legal industry can defeat the underground cannabis market in California.
"I don't think it will ever be able to compete with the traditional market because you have to compete with individuals who are able not to pay taxes, who have learned how to be hidden, employees are much more expensive on the legal side. And just to create a pound (or ounce of marijuana) is much more expensive."
He added that by the time that cannabis gets to the consumer, "there is another tax added on top of that, and now you have a $70 eighth on the market, and people are still connected to their local weed guy who says I got pretty much that same caliber for 30, 25 bucks, what's up?"
In other words, to support the legal market, "you have to say I'm willing to spend more money to support the legal market. Until we can fix that, we can't touch that local drug dealer."
But even if the legal market never emerges on top, for Charles and his big brother, the very nature of their work is already a victory.
"To be able to be out in the open and hear someone say I can recognize your hard work is a blessing. And to see that in a short time, we can change the stigma of what's going on and really make this something special."