From Guerilla Patches to Legal Cannabis: Halle Pennington of Humboldt Seed Company

Halle Pennington was a little girl in the backcountry of Humboldt County, California when she first learned to appreciate basil.
"My dad would call it [cannabis] basil. Until I was 10, I called it basil. My dad didn't want me to go to school and say oh, my dad's weed farm is doing great."
More than a decade later, the Pennington family still grows actual basil but also has a thriving cannabis seed company that no longer has to hide in the shadows in fully-legal California.
Halle is the Products Executive at Humboldt Seed Company (HSC), founded in 2001 by her father, Nathaniel Pennington, the company's CEO.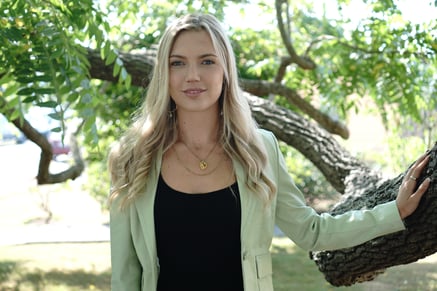 The company produces award-winning seeds that are available as normal, feminized, and auto-flowering cannabis seeds. These include favorites like Hella Jelly, Blueberry Muffin, and Vanilla Frosting, which resulted from the company's famously huge "pheno [phenotype] hunting" projects in Humboldt County. The company's footprint in the industry has grown in recent years, and Humboldt Seed Company now has seed production and distribution centers in California, Oregon, Oklahoma, Maine, South Africa, and Spain.
Pennington spoke to Rootwurks last week after spending "some quality time" with her dad digging trenches near their home in the northeastern corner of Humboldt county near the Trinity County line in northern California.
By August 2022, Humboldt Seed Company is a well-established and well-known legal cannabis brand. But moving from growing cannabis in the shadows to seeing your hard work in recreational cannabis dispensaries has taken some getting used to.
"It's definitely been a bit of a shift since [marijuana] legalization. We're all kinda coming out of our corners, trying to figure out how to do social media, interviews, how to describe what we do," Pennington said.
She added that she's fortunate to be young enough to transition to the new way of things easily and added that "but for a lot of these old-school farmers, it's so tricky going from hiding what you've been doing your whole life to building a compliant brand and marketing it on social media."
She used her father as an example to illustrate what a shift it has been for many who grow marijuana in Humboldt County.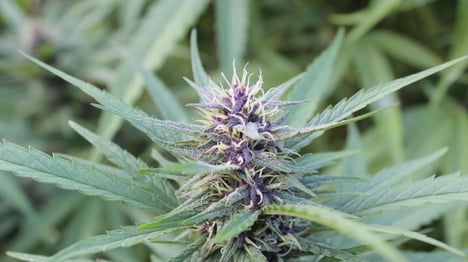 "That's why we came here in the first place because we could hide, and there are enough trees and coverage…my dad's first grow sites were 5 to 8-hour hikes through the forest on unmarked trails that only he could find, and he was wearing masks up there."
But, in the era of legal cannabis, not only must cannabis cultivators take the mask off and do actual, above-ground marketing, but they also need to pay taxes and deal with the myriad demands of cannabis compliance.
"One thing that drives me nuts is that they change the packaging [compliance] requirements all the time, so we need to reprint and throw out like $10,000 worth of packaging. For us, it hurts to throw away $10,000 of packaging because they changed four words around," Pennington said.
But she was quick to note that even with the headaches caused by the guidelines of the legal cannabis industry, there are real, concrete advantages to transitioning from the legacy cannabis market to the legal market that shouldn't be taken for granted.
Pennington said legalization "has opened doors to us that were never open before" and that "it's a privilege to be able to legitimately transfer my seeds to the farm down the road."
Even paying taxes has its upside.
"It's a little annoying, but it feels good to be able to bring our passion into something legitimate."
"Fate brought me to Humboldt"
Hailie's father, Nathaniel, is originally from the east Coast and grew up in upstate New York and Philadelphia. In 2019 he told Forbes how "fate brought me to Humboldt" after an old high school sweetheart convinced him to drop out of college and travel across the US. After a couple of months of sleeping in their car, his girlfriend left him for "a relatively famous female folk singer." A month later, he found himself in Humboldt County, seeking comfort in some of the world's best cannabis.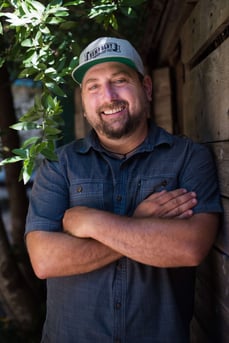 Nathaniel said the natural beauty and sense of community in Humboldt County made him choose to make it his home. In Humboldt County, he's also worked in river restoration, helping protect endangered salmon. His work in salmon genetics served him well as a cannabis breeder, according to his daughter.
Nathaniel has stated that he bred his first seeds in 1998 and "fell in love with the idea of being able to create and explore new kinds of cannabis."
In the years before cannabis legalization, Halle said her father kept a nursery on the house property and grew plants on multiple "guerilla patches' ' that were accessible only after long hikes on unmarked trails. If both of her parents had to head to the patches, Halle would tag along, and by age 2, "I got really excellent at ducking branches while sitting in a backpack."
Over the years spent in the Humboldt County wilderness, Pennington has also taken part in the company's massive "phenotype hunts," devoted to developing the best new cannabis varieties to cultivate. She said this can require growing thousands of healthy plants until you find the one that's just right.
But the pheno hunting has probably also helped her figure out which cannabis strains she prefers.
These include the Blueberry Muffin strain, which "brings me back to the days of going to sleep with dry lines [of Blueberry Muffin] hanging above my bed and my room would fill with that blueberry muffin." Other favorites include the brand's garlic butter strain, the hella jelly strain, the raspberry parfait stain, and any strain with a fruity terpene profile.
She added that she doesn't care about the THC content of the strain anymore and wants to see more consumers looking at the terpenes and full cannabinoid profile.
And it better be grown outdoors, she made abundantly clear.
"This industry is built on females [plants]"
In many industries - cannabis included - being a young woman in a prominent position can be a rare experience.
"Here in Humboldt County, a lot of women have inspired me to do what I do, but I'm not going to say it's not tricky to be a female in this industry at times," Pennington said.
She added that there is a stigma around "grow hoes" and that people often assume that she can't hold her own out in the field.
"So it's like, I'm out here constantly trying to go toe-to-toe with the boys and show I can lift as much as you guys."
She added, "if they think I can't pull my own weight and I'm just here to be a pretty face, then that sucks for them."
But if the naysayers ever get to her, Pennington can harken back to the childhood memories she made in Humboldt County - and daydream about new ones.
"It's so lovely to grow up in nature, with this beautiful farm at our fingertips, and just spend our days out in the sun with our family and hang out with the plants. I really can't imagine a better childhood. I really hope when it comes time, I can raise my kids in a similar environment."