How is the Massachusetts Cannabis Market Faring - and What should the Near Future Hold?

We may be seeing the worst economic downturn in cannabis in a decade, but in Massachusetts, there are ways for operators to weather the storm, grow as a company, and differentiate themselves in a market that isn't saturated.
That was one of the main takeaways from a webinar held last week by cannabis law firm Vicente LLP entitled "Massachusetts Cannabis Market Trends & Economic Forecast."

"We have a very good regulatory body in the Commonwealth and a low illicit market compared to other states and a strong regulatory regime," Attorney Adam Fine of Vicente LLP said, setting an optimistic tone early in the talk.
Fine was joined by the firm's Director of Economics and Research Andrew Livingston and Mitzi Keating, a partner at Citrin Cooperman and the founder of the Cannabis Advisory Services Group.
Held a little over four and a half years after legal recreational marijuana sales began in the Commonwealth, the webinar looked at how declining cannabis prices can increase market demand, how wholesale prices can fall faster than retail prices in competitive markets, and what the data from Massachusetts says about cannabis sales value and sales volume.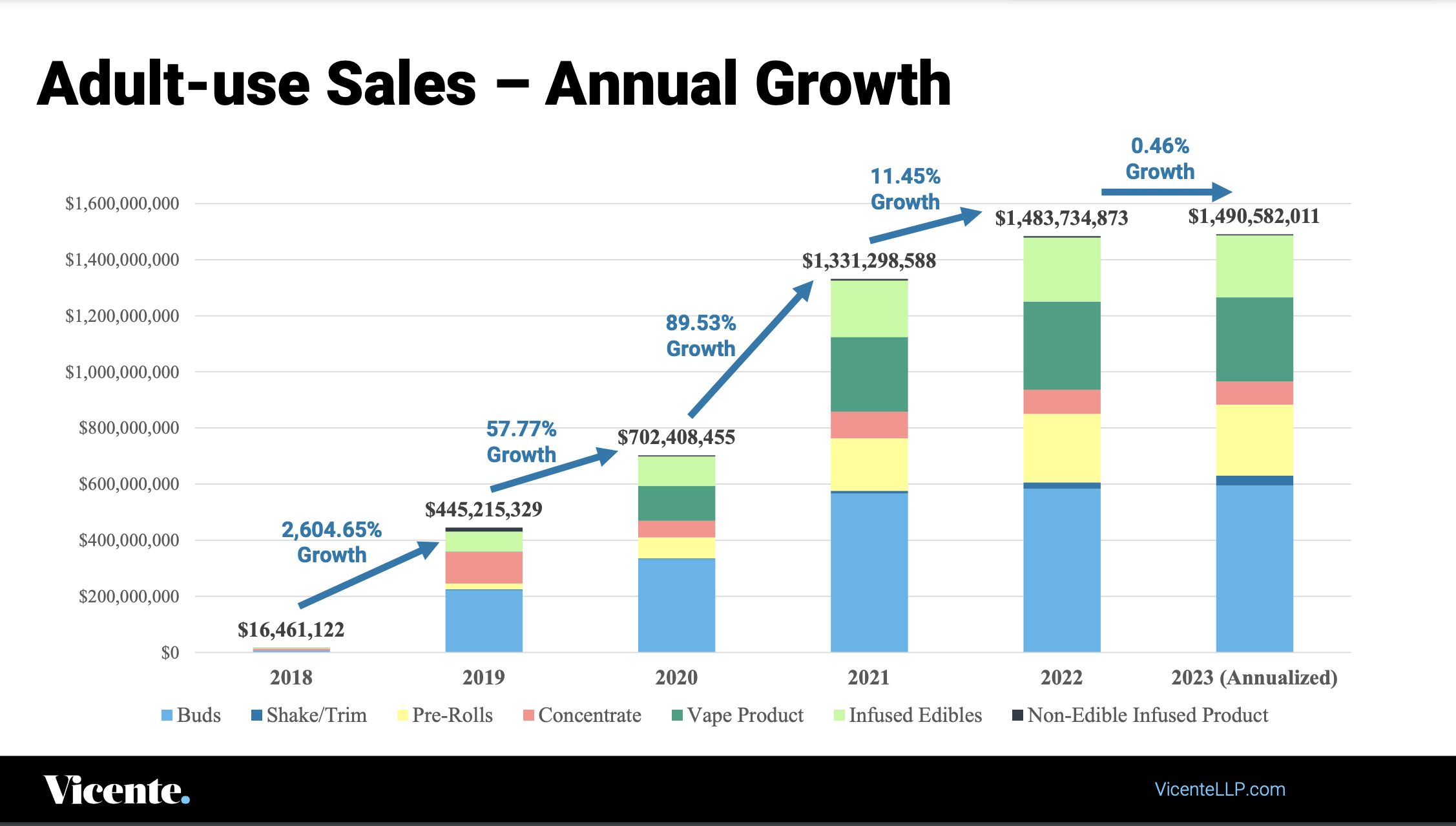 The panel also discussed how operators are dealing with the high cost of running a cannabis business in Massachusetts, where labor and real estate are more costly than the national average.
According to Mitzi Keating, wage and labor costs for the cannabis industry rose significantly when Massachusetts increased the minimum wage to $15 per hour on January 1st. Such high operating costs have led many in the state's cannabis industry to scale back operations in order to stay afloat.
"That's another impactor in terms of what it costs to produce a pound of flower in Massachusetts. We are seeing a decline and some of the cultivation facilities are really trying to control their costs which means they are reducing their flower rooms and they are producing less than what they would have been expected to be producing. And in a lot of cases it's a cost containment measure in order to survive until the next stage," Keating said.
"It's very expensive to open a cultivation facility, but especially in the Commonwealth. It would not surprise me if the majority of those provisional licenses are never going to come to fruition and that's a common thing," Adam Fine said. He added that the firm has seen a lot of cultivators who have scaled down the capacity of their canopy and that "people realize their overhead is too high and the wholesale price doesn't make sense for them to have the size and footprint that they had."
How much does it cost to buy - and grow - a gram of cannabis in Massachusetts
According to figures presented in the webinar, the average price of an ounce of cannabis in Massachusetts has declined from slightly over $300 in December 2018 to around $180 in February 2023. Over that same period, though, the average ounces of flower sold per month climbed to more than 300,000 from around 175,000 in February 2022.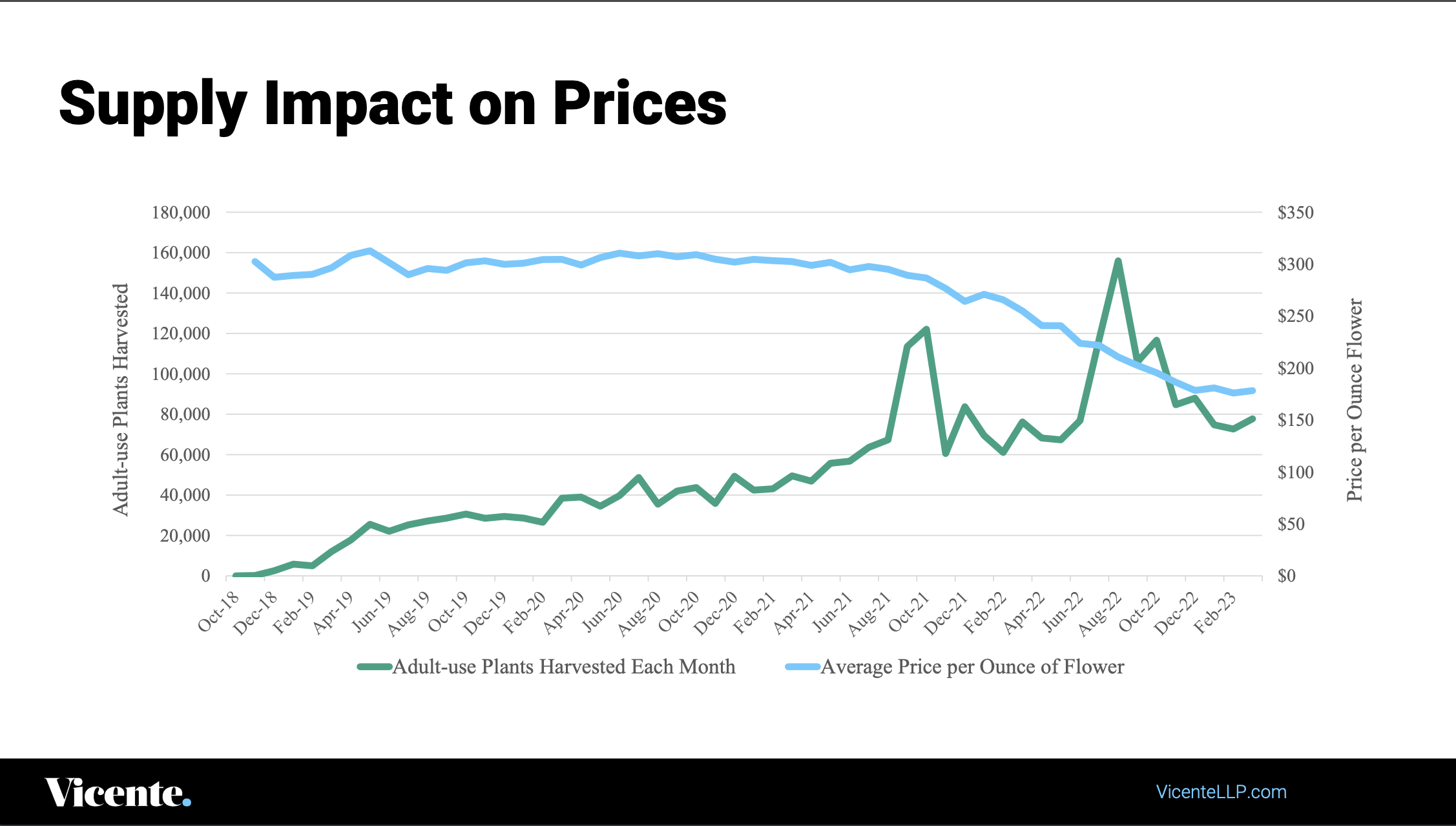 But the retail price of cannabis in Massachusetts is also directly linked to the price of producing that cannabis.
"The cost to grow a gram of flower in Massachusetts is quite a bit more cost prohibitive than other states," Keating said, adding that in order to deal with the high costs of operating in the Commonwealth, "people are not just trying to get open and open as fast as possible and pour as much money into the facility as possible they're starting to be smarter about operations and streamlining operations."
But the cost of producing cannabis in Massachusetts is somewhat offset by the price per gram of marijuana, which has stayed relatively high compared to saturated markets. According to figures presented in the webinar, the cost of cannabis in the state was $6.29 per gram in March 2023, as opposed to $3.67 per gram in Oregon in April 2023 and $3.42 in Colorado in December 2022.
The high cost also means the state is not likely to serve as a source of cross-state "diversion" like in other markets, where people buy legal cannabis flower on the cheap and drive it across state lines to sell in states where cannabis remains illegal.
"The price per gram in Massachusetts is too expensive to make post-sale diversion economically feasible. It's happening from Colorado, Oklahoma, Oregon, and Washington, but not from Massachusetts," Livingston said.
The illicit market
The panelists agreed that the illicit Massachusetts marijuana market is probably not on the same level as New York, though it still has a major effect on the legal industry.
"I think the illicit market here is still underground as opposed to what you see with New York in the bodegas. We don't have that type of visible problem," Keating said.
She added that while the prices are significantly lower than the legal cannabis market, "I think people are afraid of unregulated products and it's a great concern and that's why people are turning to the regulated market and why prices are coming down."
Livingston presented figures illustrating that the illicit market is worth around $2.68 billion dollars in Massachusetts. That figure is actually larger than the legal market in Massachusetts, but it should drop as the price per ounce of cannabis on the legal market continues to decline, he added.
"We need to expand supply and delivery and the more demand we're able to move through the regulated market the better that's going to be for retailers, manufacturers, and cultivators," Livingston added.
Where are cannabis consumers underserved?
The legal cannabis market in Massachusetts is perhaps not as concentrated in the Boston metro area as many may think.
According to figures presented in the webinar, there is one dispensary in the Boston metro area per every 38,470 residents, as opposed to one per 24,525 residents in Massachusetts as a whole. The figures also showed that only 16.5% of retail cannabis dispensaries are in the Boston metro area, even as it is home to the majority of the state's residents.
The presentation stated that 26% of final and provisions retail licenses will be in the Boston metro area, and this will increase per-store demand above the statewide average, and will also further consumer transition to the regulated cannabis market.
Livingston said that as the number of Boston retailers increases, the average amount of cannabis being sold at higher price points should rise in the state.
But as more retailers open in Massachusetts, how can they differentiate their businesses from the competition?
Keating stated that there are plenty of ways for cannabis companies to stand out in the Massachusetts market.
"It's a little bit difficult out there in general but I think if you analyze the numbers and as long as you're keeping your costs contained, watching your internal controls, have a good manufacturing process and cultivation that is done at the highest level, and your management team is looking out for the long term interests of the company, then I think you're in a better position."
In late May, Massachusetts state regulators voted to cancel a pilot program for cannabis social consumption lounges in 12 communities across the Commonwealth. Instead, they will focus on a statewide licensing and regulation framework that is expected to streamline the process for opening consumption lounges in the state.