Leaving Las Vegas: MJ Unpacked's Vision of Cannabis at its Best and Where We May Be Heading

Picture a cannabis retail chain that invests heavily in budtender education and provides "curated customer experiences" - including for medical marijuana patients.
But there's more.
The company also works with cannabis producers that emphasize science and innovation and the full range of cannabinoids and terpenes. The company has also made a name for itself with premium, all-natural cannabis products - while still keeping prices low. Even better, the company may be new school, but it pays homage to the legacy market OGs that came before it and has successfully created a very diverse workplace.
And somehow, the company has also found a way to do all this and remain highly profitable, despite inflation and the restrictions of federal cannabis prohibition.
This may sound like a pipe dream (pun intended), but if one were to piece together the aspirations and the themes that dominated at MJ Unpacked last week in Las Vegas, what you'd have might closely resemble this mythical cannabis company.
Shark Tank - but with weed?
MJ Unpacked describes the event as being open exclusively to "cannabis retail and brand executives with the title manager and above, and family offices, personal or private investment funds, hedge funds, and venture capitalists actively investing in the space."
Think Shark Tank, but with weed.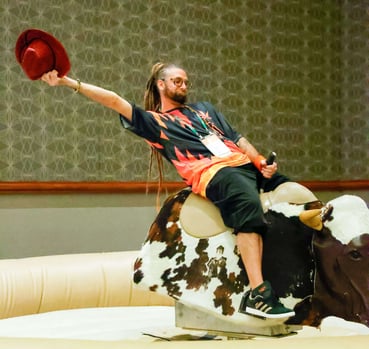 With the slogan "Spark Your Expansion," the event had an air of scrappy entrepreneurship as new and emerging brands put their best foot (and booth design) forward to make connections and close deals. There was a mirthful air to the festivities. Brands included CupCakes, which makes "pre-bowls" for easy and consistent pipe-packing, Ripple Quicksticks ("like pixy stix for adults"), and Potdots, which makes edibles for microdosing.
Beyond the booths (and the mechanical bull sponsored by Rootwurks), there were panel discussions and chats at the brand experience hall that provided no shortage of takeaways about where the cannabis industry is headed.
"Cannabis is the Hunger Games"
On day 1 of MJ Unpacked, Wana Brands Chief Revenue Officer Eric Block said, "some [cannabis] markets really feel like the Hunger Games. Cannabis is really hard, there's inflation, and we're the only place where the prices are going down, and they are going down fast."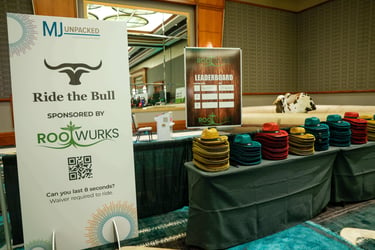 Block was by no means the only attendee to speak about the difficulties of cannabis. From federal prohibition to price compression, inflation, overproduction, and the challenges of standing out in a saturated market, the hurdles one must overcome to "spark your expansion" are apparent.
One takeaway is that in the face of such difficulties, passion and ambition are necessary for cannabis professionals. At the same time, drive and desire aren't enough unless brands can secure funding, navigate regulations and compliance, and find ways to stand out in the market.
Cannabis education is key
Time and again at MJ Unpacked, panelists and attendees spoke about the need for better budtender education. They said education is a way to build your brand and provide added value to consumers. But attendees also spoke of the need for more outstanding education for cannabis consumers.
With more knowledge of the intricacies and nuances of cannabis, such consumers can better curate their own marijuana experience. They should also help push the industry to develop more new and exciting products.
Cannabis, cannabis everywhere - and nowhere to legally smoke
Everybody loves swag and all the other giveaway bags at conferences - especially cannabis conferences. But time and again at MJ Unpacked, attendees would receive a free sample of an edible or a cannabis beverage - only to see that the small print says "unmedicated sample."
Las Vegas casinos are heavily regulated, and because cannabis is illegal under federal law, no smoking or possession of (THC-including) cannabis products is allowed on casino property. But just around the corner from the MGM, there were a few choice spots to spark up and to be honest, you didn't need to venture further than the valet station.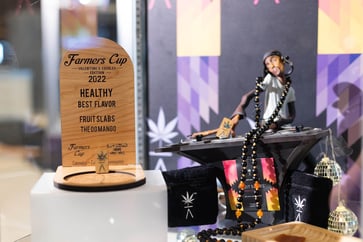 But regardless, the experience highlighted the draw of cannabis consumption lounges, one of the hottest subjects of discussion at MJ Unpacked.
As of October 1st, a new law in Nevada allows the on-site consumption of cannabis products at sites attached to medical and recreational dispensaries or at consumption lounges.
Under the law, consumption lounges cannot be located within 1,500 feet of casinos. You still won't be able to smoke up at a conference held at a casino, and chances are you'll still smell weed when walking down the Strip. Still, the absence of legal smoking spots at the conference highlighted the draw of consumption lounges even if cannabis smokers, like life, will always find a way.
Premium experiences or lower prices?
Should cannabis dispensaries and producers drop prices to compete and establish their brands? Or is it better to focus on curating premium customer experiences based on high-quality products, budtender expertise, and the overall vibe and prestige they project?
The panel discussion on "discount culture" also begged the question, why not do both? The retail world is full of brands that provide high-quality goods and customer service and keep their prices low. In fact, for many companies, this is their brand and their entire pitch to consumers.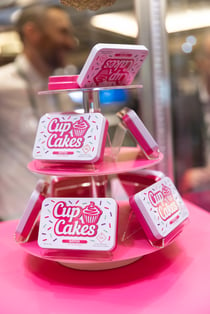 In the face of federal prohibition and the funding and licensing headaches involved in cannabis, established brands should have an easier time preserving their prestige and high prices. And while it's true that designer brands like Gucci or Prada don't reduce prices to expand their consumer base, we're talking about cannabis here, not haute couture.
Cannabis culture and authenticity - who decides what's authentic?
Social equity and diversity in legal marijuana are major subjects of discussion when industry professionals get together en masse. The social equity discussion is often linked to the "legacy market" and the OGs ("original gangster") that helped establish cannabis culture and the bedrock of the legal industry during decades spent in the shadows.
Social equity and greater diversity are essential to the future of legal cannabis and to correcting the wrongs perpetrated by decades of the Drug War.
But when it comes to discussions about the legacy market, you may be compelled to ask, can one be authentic even if they never risked a federal mandatory minimum sentence? Can you be an "authentic" cannabis fan and professional if you only made it your career in the past few years? What if your only brush with the law was a possession charge and some community service?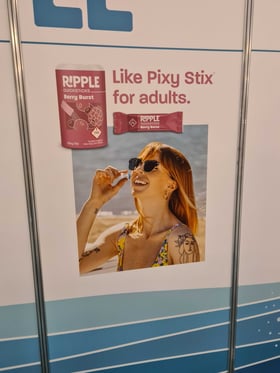 Who decides what is authentic in marijuana? My sense is that with authenticity in cannabis, you know it when you see it. Still, it may behoove the industry to find a way to integrate and pay homage to the legacy market without becoming gatekeepers that ostracize those customers and professionals who joined us only recently.
What happens in Vegas (may bode well for cannabis?)
The brands, discussions, and general vibe at MJ Unpacked presented a vision of a marijuana industry that is more diverse, authentic, educated - and thriving. But in cannabis, vision and ambition often collide headfirst with federal prohibition, licensing issues, inflation, high taxes, high turnover, and rapid price compression.
Regardless, MJ Unpacked was an exciting and, at times, inspiring look at what may be around the corner in cannabis and what we can expect to see next year in Las Vegas - at a consumption lounge at least 1,500 feet from a casino.