The Face of Cannabis - Who Works in the Cannabis Industry Today?
Between Election Day 2020 and December 2021, ten more states approved cannabis legalization measures. And with legal cannabis revenue projected to reach $43 billion by 2025, the stratosphere is the limit.
As cannabis becomes more and more mainstream, a career in cannabis is no longer something you can't write home about. But who works in the cannabis industry today, and what can we learn by looking at the demographics?
How many people work in cannabis today?
According to the 2022 Leafly jobs report, there are currently 428,059 full-time equivalent jobs in cannabis - a 33% over the 321,000 full-time jobs in Leafly's 2021 report.
Or, as Leafly noted, there are now more than three times as many legal cannabis workers as dentists and more legal cannabis workers than hairstylists, barbers, and cosmetologists - combined.
While this is pretty astounding, as the Leafly report states, "the total employment potential in a mature US legal cannabis market is approximately 1.5 million to 1.75 million workers. The economic and employment potential for legal cannabis remains quite bright for many years to come."
Where are most cannabis jobs located?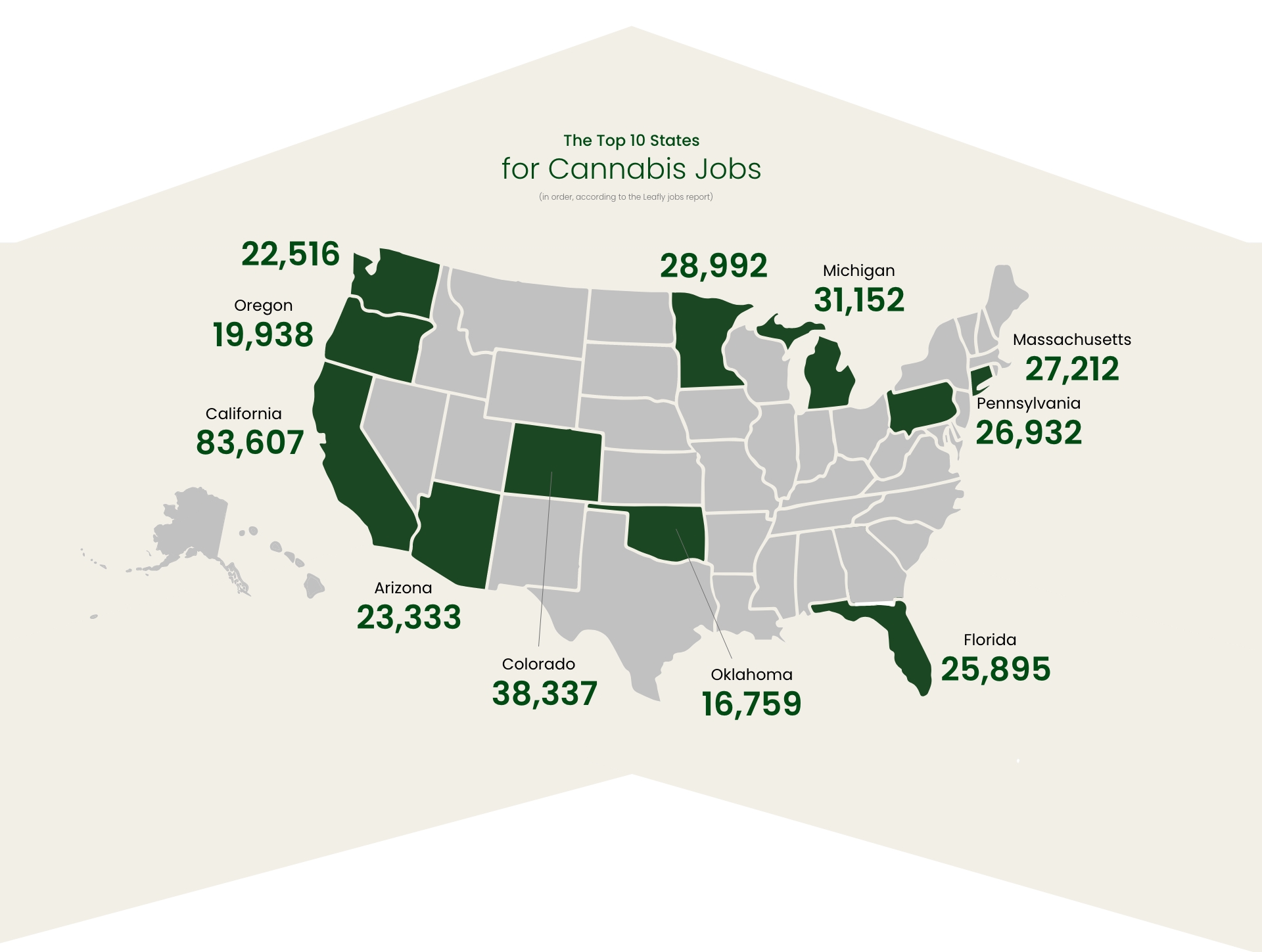 Not surprisingly, the Leafly report found that California has the most full-time cannabis jobs (83,607), followed by Colorado, 38,337. Michigan and Illinois were third and fourth, with 31,152 and 28,992 jobs.
A 2019 job listing website Glassdoor report found that 7 of the top 15 metro areas for cannabis jobs are in California. According to Glassdoor, San Francisco and Los Angeles alone account for 25% of all openings. All 15 metro areas are major cities, and other than Miami-Fort Lauderdale, all are in "blue" states. The top five cities, according to Glassdoor, were San Francisco (13% of all postings), Los Angeles (12%), Denver (7%), New York City (4%), and Seattle (4%).
Glassdoor also noted that the remaining 39% of job postings are distributed across the country and are much more widely dispersed than high-tech jobs.
Who works in cannabis today?
While countless people may think of the "lazy stoner" stereotype when they picture a budtender or cannabis professional, the truth is quite different.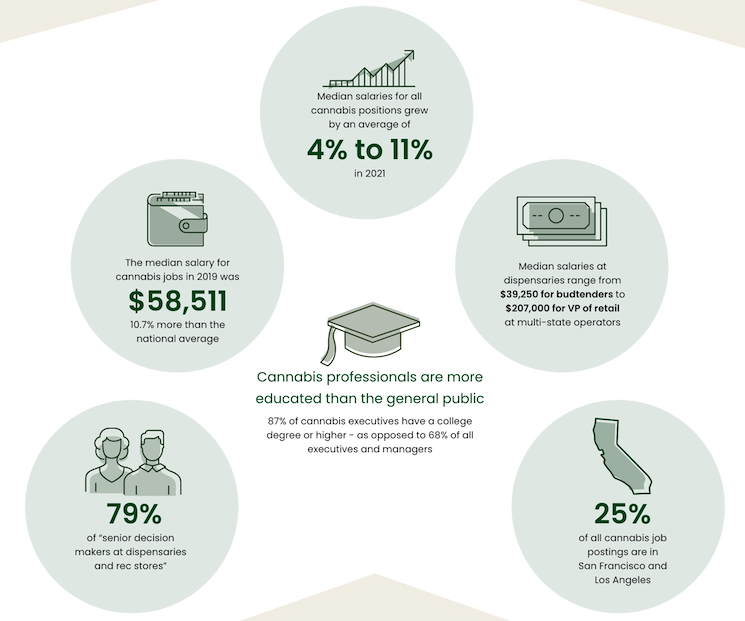 Cannabis professionals - especially executives and those working at testing labs - are significantly more likely to hold a bachelor's degree or higher than the general population. One survey found that 87% of cannabis executives and managers have a college degree or higher, as opposed to 68% of all executives and managers. The survey also found that just 21% of "senior decision-makers at dispensaries and rec stores" have only a high school education.
People from all walks of life have entered the legal cannabis industry in recent years, and the mass economic disruption caused by the COVID-19 pandemic has also played a role in this.
A September 2021 Washington Post article described retail and restaurant workers who "found refuge" at dispensaries and cannabis production and cultivation facilities after being laid off or furloughed in the early days of the pandemic. And while the pandemic ravaged retail and food service, cannabis businesses were deemed "essential services," creating new opportunities for countless people whose lives had been turned upside down.
In addition, thousands of migrant and seasonal workers trim cannabis flower during the harvest season in the United States. And since the passing of the US Farm Bill in 2018, hemp producers can now hire foreign guest workers to tend to their crops.
How much do cannabis jobs pay?
Salaries in the hemp and cannabis industry can vary widely depending on the position and location.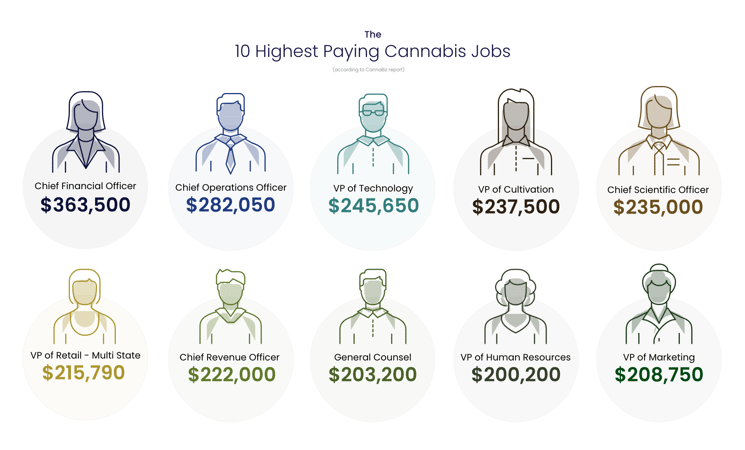 According to Hemp Industry Daily, there has been a hiring surge since the passing of the 2018 US Farm Bill, and experienced farm operators can now demand six-figure salaries. The article stated that in 2019 the average salary for a hemp greenhouse manager stood at $125,000, while $60,000 was the average salary for greenhouse technicians.
The 2019 Glassdoor report stated that the median salary for cannabis industry jobs was $58,5111 - 10.7% more than the US median salary of $52,863.
More recently, a report from the cannabis staffing company Cannabiz Team found that from 2021 to 2022, the median salaries for the industry grew by an average of 4%, with senior executive median salaries rising as much as 10%.
The chief financial officer had the highest median salary at $363,500, a 3% increase over 2021. According to the report, the VP of cultivation has a median salary of $237,500, an 8% increase over 2021.
Retail cannabis workers also saw increased median salaries, ranging from $41,500 for budtenders (a 5% increase) and $93,900 for dispensary managers (3%) to more than $215,790 for multi-state retail VPs (3%).
Diversity in the cannabis industry - Still a long way to go
Over the past century of cannabis prohibition, black and brown people have been far more likely to face arrest or prosecution for cannabis offenses. This has not ended with legalization.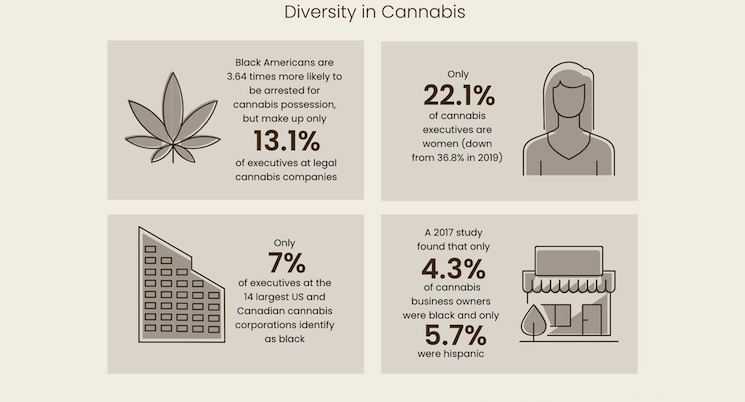 A 2020 American Civil Liberties Union study found that "black people are still more likely to be arrested for marijuana possession than white people in every state, including those that have legalized marijuana."
Furthermore, the study found that while white and black Americans have similar rates of cannabis use, black people are 3.64 times more likely to be arrested for cannabis possession.
According to NORML, black people in 2019 were 4.47 times more likely than whites to be arrested for marijuana possession in California, and Hispanics were about twice as likely.
But those whom the War on Drugs has disproportionately harmed are also underrepresented in the ranks of legal cannabis professionals. And while many efforts are underway to advance diversity, equity, and inclusion in the cannabis space, the industry continues to experience many of the same disparities that persist in other industries.
A 2021 study found that at the 14 largest cannabis corporations in the United States and Canada, 90% of executives were white, and only 7% identified as black. Another study from 2017 found that only 4.3% of cannabis business owners were black, and just 5.7% were Hispanic.
In addition, a MjBizDaily survey found that minorities made up only 13.1% of executives at cannabis companies in 2021. MjBizDaily noted that this is consistent with the overall economy, in which minorities held only 13% of executive positions in 2020.
The survey also found that 22.1% of executives at cannabis companies are women, a drop from 36.8% in a study by MjBizDaily in 2019. The 2021 figure is significantly lower than the national average of 29.8%. This reality is partly linked to the fact that white men, on average, have an easier time overcoming the barriers to entry, particularly access to capital.
What does the future hold for cannabis professionals?
The near future provides a great deal of promise for cannabis professionals. Legalization at the federal level would open up access to banking and credit for all types of entrepreneurs - including women and minorities - who have not had access to the capital needed to enter the legal cannabis business. In addition, social equity programs will provide more opportunities in legal cannabis for communities disproportionately targeted by the criminal justice system during nearly a century of cannabis prohibition.
Legal cannabis should continue to attract people from all walks of life who may have never considered a career in cannabis only a few years ago.
And for cannabis consumers? The best may be yet to come.